No matter where you live across America, your local Costco is without a doubt already in full out summer mode. The warehouse floors are likely littered with swing sets, patio furniture, and must-have grills. Sales include items like lawn fertilizer, sunscreen, lightweight clothing, and even allergy medications. 
But, the most exciting part about the shift in seasons is all the update to the grocery department, and specifically within the snack aisle. With the kids home all day, more frequent BBQs, and longer days in general, having a diverse stockpile of snack foods at the ready is essential. And Costco has everything you need from sweet to salty goodies, and everything in between.
Check out just a few of the tastiest warm weather snacks available at the warehouse right now that members cannot stop talking about.
RELATED: Best Costco Breakfast Items, Ranked!
1. Cinnamon Churro Fiesta Twists
Any Taco Bell fans out there? Word around the Costco rumor mill is that these Old El Paso Fiesta Twists in the Cinnamon Churro flavor are a dead ringer for the fast food joint's famed Cinnamon Twists. Instagrammer @costcofans caught sight of the new summer item and another user was quick to comment, "bought this and LOVED IT!!!"
Instagram's @costcobffs also posted about the sweet snacks, calling them "light and airy with the perfect amount of cinnamon and sugar." To which a member replied, "Damn! Was hoping you were gonna say they're just ok. Cause now I'll have to go get a bag or 2 😂😂😂."
If you want to see for yourself how the Fiesta Twists stack up to Taco Bell's, you can find them in 12-ounce bags for $5.89 right now at warehouses. But, you'd better act fast. They are already marked with the death star, so they won't be around for long!
2. Pineapple Habanero Dip & Spread
This surprising pairing of pineapple and habanero may just be the best flavor fusion of the summer. La Terra Fina is a much loved dip brand sold at Costco and its flavors such as Spinach, Artichoke & Parmesan and Caramelized Onion with Roasted Garlic quickly became a smashing success. Out of the gates, this new medium-heat Pineapple Habanero flavor–sold in giant 31-ounce tubs for $9.49–appears to be faring just as well among the warehouse's snack-loving members.
Instagram's @costcoaisles describes the creamy dip as "the perfect blend of heat and sweet from the spice of garden-fresh habanero peppers and tropical pineapples." One commenter excitedly added, "Oh baby! Another one of their tubs added to my list 🔥 @laterrafina."
In @costcoguide's own thread introducing the delectable dip, members threw around plenty of ideas of what to eat with it. Among the best options were vegetables like mini peppers or carrots, pita chips, Wheat Thins, or even spread on a sandwich. We don't think you could possibly go wrong with any of the above.
3. Chicas Lime Corn Tortilla Chips
If you're still looking for something to eat with that dip, you could also go with the easy choice and pick up a bag of these Chicas Lime Corn Tortilla Chips. Costco is now carrying them around the Los Angeles region for a limited time, according to Angela Ackerman, the voice behind @costcoguide on Instagram.
Ackerman says the Chicas chips are "some of the best [she's] ever tasted," with an authentic lime flavor and a satisfying crunch. They are also certified non-GMO, vegan, and gluten-free–so there's something for everyone to love. Go grab one of the 28-ounce bags today to try them for yourself. But, be warned, just one bag may not be enough. "I bought 2, should've bought 4 – they're soooooo good!!!" one member shared. 
4. Probiotic Strawberry Yoggies
Costco fans are being transported back to their adolescent days of packed school lunches with these Nature's Garden Probiotic Strawberry Yoggies. According to fascinated members, they are essentially the adult-version of a different snack called Yogos from Kellogg's, which were discontinued in 2010. The key difference, however, is that these are actually made with real strawberry bits and provide much more in the way of nutritional value.
Each adorable pink pouch contains two billion probiotic cultures, three grams of fiber, and no artificial ingredients. Plus, they've received top marks in the flavor department, making the tiny fruit bites the perfect refreshing summer snack. Instagram's @costcoaisles recently spotted the new product, prompting one member to comment, "Picked some up this weekend. So good! Going to grab another box for my classroom- I know my students will like these, too! 🍓#NewFavorite."
5. S'Mores Snack Mix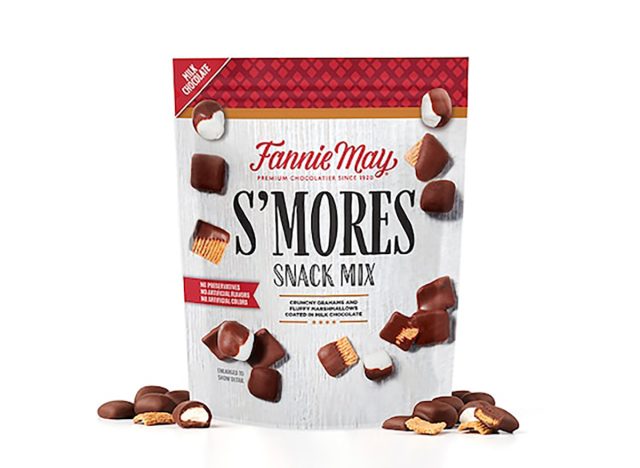 Based on member feedback, this S'Mores Snack Mix by Fannie May should come with a warning that it will be addictive. Instagram's @costcobuys shares that the mix "has crunchy grahams and fluffy marshmallows coated in milk chocolate," and is available at Costco for $10.69 a pop.
The S'Mores rendition is clearly a hit so far with no negative reviews in sight. One commenter shared, "Omg!!! Best snack ever! My ​​kids and I are addicted!!! And obsessed, we finished our bag quickly. Time to get more! Haha." And, another lovingly announced, "These are slamming!"
If you're really wanting to up your snack ante, one member also suggests storing the sweet mix in the fridge. 
6. Flavored Blue Diamond Almonds
On Reddit, people are in a frenzy over these Blue Diamond almonds, available in a couple new nontraditional flavors at Costco. One fan on Reddit announced earlier this week, "Blue Diamond Almonds Chili & Lime new flavor! It can be risky trying something new from Costco bc if what if you don't like it….NOT TODAY!" Others described the nuts as "delish and addicting" and compared them to another beloved snack Takis.
Another conversation erupted over the Korean BBQ Blue Diamond Almonds just a day later. One contributor wrote "I love these. Had to go back and get a second bag!" And, a second pointed out, "It's almost 3 pounds (45oz) and a really great deal."
Both posts mention the finger-licking good almonds have recently been on sale, and the Korean BBQ monster bags specifically were priced at just $10.50. Grab some for the perfect salty snack during a long summer hike or just to munch on while you lounge by the pool.
7. Orange Dream Almonds
In a completely different category of almonds, and for those with more of a sweet tooth, this week @costcobuys also introduced Costco lovers to Orange Dream Almonds from the Edward Marc Chocolatier. The post reads, "Orange Dream Almonds look SO GOOD! These are roasted almonds covered in orange creme…the perfect sweet summer treat!"
They truly do look heavenly and other commenters agree. "Wow these look amazing!" @costcofindsca says. And @mikbrownn adds, "Well crap 🤤 looks like I'm going to Costco 😂."