Though it's best known as the location of the University of Florida, there's a lot more to Gainesville than a college campus.
It has a rich history dating back thousands of years to the time of hunter-gatherers, and many of its wild forests and wetlands have been carefully preserved to this day.
It's an absolute haven for nature lovers who like to get away from it all.
There's another side to Gainesville, however, that is a lively college town, so there's plenty to see and do for active vacationers.
There are shops and restaurants; there are malls, museums, nightclubs and breweries. If you like to cut loose, you won't lack for opportunities.
You might be wondering where to get started. What are the biggest attractions in the area? What are some travel hacks that you can use for having a great time?
If you're wondering how to plan a trip to one of the coolest destinations in Florida, here are just a few things to do in Gainesville.
Things To Do In Gainesville
1. Florida Museum Of Natural History
One of the most popular stops in Gainesville is the Florida Museum of Natural History.
It's a huge, sprawling complex filled with everything from life-sized dinosaur bones to living butterfly rainforests, and it has a little something for everyone in terms of age, gender and interest.
If you like fossils, there are dozens of displays where you can admire ancient animal remains.
If you like history, there are carefully-preserved artifacts from the indigenous tribes of Florida.
If you're a nature buff, you can wander through leafy halls and underwater domes that mimic real-life caves, cliffs, rivers, bogs and waterfalls.
"Discovery zones" will let kids get their hands dirty with interactive games and activities. Information stations will help mom and dad with fun facts about what they're learning.
Did we mention that it's free? Only a few special exhibits will require the purchase of a ticket.
Everything else can be enjoyed without paying a dime, making the Florida Museum of Natural History one of the best free things in Gainesville.
You should definitely check it out if you're visiting the city on a budget.
Address: 3215 Hull Rd, Gainesville, FL 32611, USA
2. Devil's Millhopper Geological State Park
Have you ever wanted to explore a gigantic sinkhole? Here's your chance!
Devil's Millhopper Geological State Park is the only park in Florida that's literally located in a sinkhole.
It stretches more than 120 feet deep and 500 feet wide, and visitors can descend to the bottom with the help of winding wooden steps and boardwalks that lead to an observation deck.
The sinkhole is a marvel of nature for several reasons. Not only is it filled with water and limestone, but it's so big that it has three distinct ecosystems within its walls.
There's a swamp, a forest and a sand hill that all developed independently of each other because of their different exposure to rain and sunlight.
Lots of people joke about Florida being the end of the world, but traveling down into Devil's Millhopper Geological State Park might make you feel like you're actually experiencing doomsday.
It even got its devilish name from the fact that so many animal bones were found scattered at its bottom. It's said that the sinkhole was their final destination before hell.
Do you have what it takes to follow them?
Address: 4732 Millhopper Rd, Gainesville, FL 32653, USA
3. Kika Silva Pla Planetarium
Located on the campus of Santa Fe College, the Kika Silva Pla Planetarium will show you the wonders of the universe.
In addition to regular "star shows" where you can explore the night sky without ever leaving your seat, the planetarium also offers fun, creative showcases that incorporate everything from music to laser art.
For example, the SpacePark Show is designed like a breathless roller coaster ride through the cosmos.
The Music 360 Show blasts Led Zepplin and Pink Floyd during eye-popping visual displays of stars, galaxies, supernovas and black holes.
You don't have to be an astronomer to enjoy the Kika Silva Pla Planetarium.
In fact, many of its visitors are kids and families who just like to kick back and watch a celestial show like a movie.
If you've never experienced one for yourself, stop by the planetarium and let it take you away.
Address: X-129, 3000 NW 83 St, Gainesville, FL 32606, USA
4. Ichetucknee Springs State Park
Gainesville is a landlocked city, so you can't hit a local beach like you could with other Florida vacation spots.
That said, don't make the mistake of thinking that everything in Gainesville is dry. A trip to Ichetucknee Springs State Park will be quite the splash!
Famous for its dazzlingly blue waters, the Ichetucknee River offers all kinds of outdoor activities for a weekend getaway.
You can swim, snorkel and scuba diva; you can go tubing, canoeing, kayaking or paddleboarding.
You can have fun outside of the water as well. The Great Florida Birding Trail winds through a big portion of the park, and there are hiking and picnicking sites everywhere.
It's a great place for nature and wildlife observation.
Do you want to get wet and wild during your trip to Florida? Do you want to get your blood pumping with crazy summertime adventures?
Make sure to visit Ichetucknee Springs State Park.
Address: 12087 SW U.S. Highway 27 Fort White FL 32038, USA
5. Downtown Gainesville
There's always something to do in downtown Gainesville.
From old-fashioned movie theaters to state-of-the-art shopping centers, you could spend a whole weekend exploring its amenities and still not see it all.
During the day, the sun-dappled streets are filled with the sights and sounds of commerce.
If you like eating out, enjoy a burger at the Paramount Grill or a platter of seafood at the Dragonfly Sushi & Sake Company.
If you like to prepare your own meals, shop for fresh produce at the Union Street Farmer's Market.
Do you have money burning a hole in your pocket? Poke around the stores, cafes, bookstores, bakeries and souvenir houses of the central plaza.
Downtown Gainesville comes even more alive at night.
The Hippodrome Theater has live theater shows every week of the year, and the Swamphead Brewery serves ice-cold beer in thick-bottomed mugs.
You can also try novelties like Rockey's Dueling Piano Bar where pianists engage in competitions and take music requests from the audience.
You won't want to spend your entire vacation in downtown Gainesville. There's too much to see and do in the rest of the city.
If you're looking for a good place to start with your vacation, however, consider downtown.
6. Carson Springs Wildlife Conservation Foundation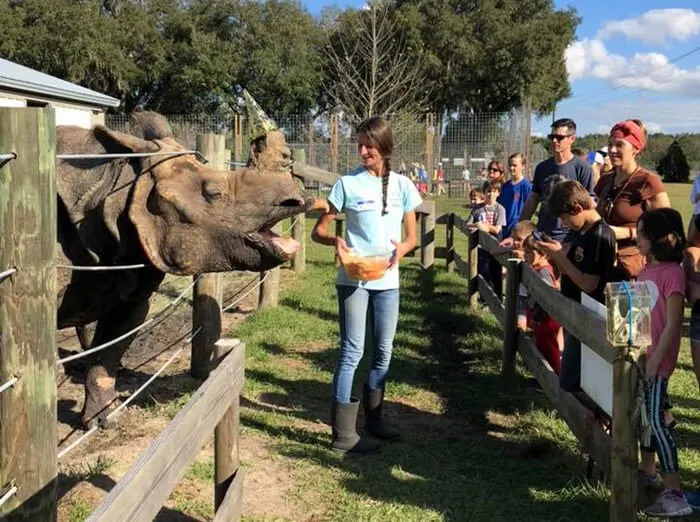 If you're willing to travel a few miles outside of Gainesville, the scenery will transform from paved asphalt to lush green hills.
This is how you can tell that you've reached the Carson Springs Wildlife Conservation Foundation.
Established by a duo of animal lovers, the Carson Springs Wildlife Conservation Foundation is an animal sanctuary that houses more than 25 species of rare and exotic creatures.
They have cheetahs, pumas, lemurs, hyenas, giraffes, tigers, tortoises and more.
All of the animals are treated like royalty, and visitors can watch feeding demonstrations and step right up to the habitat enclosures.
Some of the friendlier cats will even stretch up and meet you at the fence.
The only downside of the Carson Springs Wildlife Conservation Foundation is that it isn't open for general admission.
You'll need to schedule a tour in advance, so make sure to call ahead before you fly to Florida. You won't want to miss Lea the lion and Henry the rhino!
Address: 8528 E, County Rd 225, Gainesville, FL 32609, United States
7. Lake Alice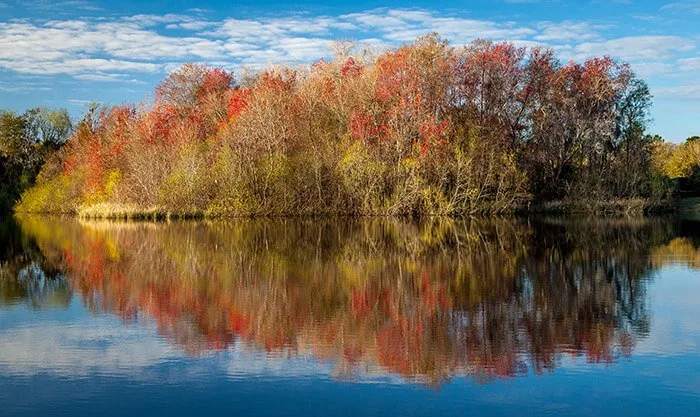 Lake Alice is one of the lesser-known historical sites of Florida.
It used to be home to members of the Alachua culture around 1000 AD, and it's believed that they created burial mounds nearby.
Times have changed, but Lake Alice remains a quiet and respectful place. It's also one of the most beautiful places in the US.
While you can't swim in the water, you can observe all of the birds, turtles, possums and alligators that slink around the shore.
There are several walking trails and viewing decks to help you get a better look.
You can also pay a visit to a couple of attractions near the shore.
The Baughman Center is a beautiful chapel made with cypress wood and floor-to-ceiling windows that reflect the light of the lake, and many people wind up wandering inside for private prayer or meditation.
The Bat House and Barn is a wildlife sanctuary where you can watch more than 300,000 bats swoop in and out of their home when the sun goes down.
Florida is a fun place, but it can be tiring, too. There's no shame in needing a few minutes by a beautiful lake to relax and recharge.
Let Lake Alice bring you some much-needed peace during a hectic trip.
8. Depot Park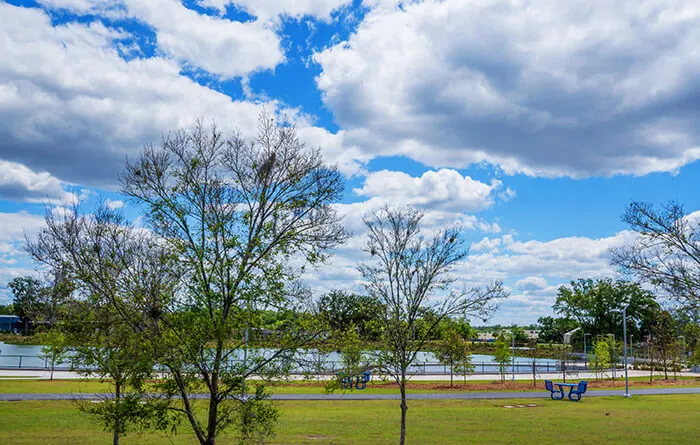 Open from dawn until dusk, Depot Park is one of the liveliest places to visit in Gainesville.
Kids can run, jump, climb and slide on the playground equipment; adults can picnic in the pavilion or play with a life-sized chess set in the grass.
When you get hot, visit the "blue grotto" where you can splash around a miniature waterfall primed with water cannons and water jets.
When you get sleepy, retire to one of the shaded recreational areas and enjoy an afternoon nap under the cover of an oak tree.
If you plan things right, you might even catch a special event at Depot Park.
It hosts everything from fireworks shows to live bands for summer concerts, so it's just a matter of coordinating your schedule and hitting the park when fun things are happening.
Another nice feature of Depot Park is that it won't cut into your travel budget.
It's one of the many free things to experience in Gainesville, so you can enjoy it with nothing more than a couple of bucks for the ice cream man if he passes through!
Address: 874 SE 4 St, Gainesville, FL 32601, USA
9. Historic Haile Homestead
Also known as the "Haile Plantation House," this colonial property was built in the 1850s for a white family and their slaves.
From the outside, it looks like any other old-fashioned Florida home. On the inside, however, the walls tell a different story.
Literally.
For reasons lost to time, the Haile family wrote all over their walls.
There are more than 12,500 words covering everything from the kitchen to the master bedroom.
Some are Bible quotes; some are lists, signatures, stories, blessings and daily musings. There are even drawings scattered here and there by budding artists.
Perhaps most interesting is the fact that the "talking walls" document both the lives of the Haile family and the lives of their slaves.
This peek into genuine, first-person history transforms the house from a roadside oddity into an amazing historical landmark.
It's even been recognized by the U.S. National Register of Historic Places for its significance.
The Haile Homestead isn't for everyone. It's a solemn reminder of a time when slavery existed in Florida.
If you enjoy history, however, it doesn't get more authentic than a plantation house covered in the mementos of its owners.
Address: 8500 SW Archer Rd, Gainesville, FL 32608, USA
10. Bluefield Estate Winery
Located just outside of Gainesville, the Bluefield Estate Winery is a family-run business that was started by a married couple in their very own kitchen.
They wanted to make some DIY wine, and after a few rounds of experimentation with locally-grown grapes and blueberries, they realized that they were onto something.
The Bluefield Estate Winery was born.
Today, the Bluefield Estate Winery is a small establishment that you can find off the beaten path of the greater Gainesville area.
It isn't fancy, but it's real.
Vineyards of blueberries and muscadine grapes dot the horizon, and every bottle of wine is created and corked by hand.
During harvest season, the owners will let you pick your own berries to go into custom-made wines.
If you're looking for unique things to do in Gainesville, consider the Bluefield Estate Winery.
It'll make for a great vacation story and an even greater bottle of booze.
Address: 22 Co Rd 234, Gainesville, FL 32641, USA
11. Ben Hill Griffin Stadium
Known to locals as "the Swamp," the Ben Hill Griffin Stadium is one of the largest in Florida.
It can seat almost 90,000 people, and it's hosted a variety of games, concerts, ceremonies, championships and pep rallies.
The Ben Hill Griffin Stadium is perhaps best known for its annual Gator Growl, a huge homecoming event for the University of Florida during football season.
People come from all over the state to enjoy everything from televised skits to live comedy performances.
Celebrity guests frequently make an appearance, and it's a grand old time that whips people into football fever.
Of course, there are other things to enjoy at the stadium that are less famous.
High school and college bowls are frequently held within its walls. Concerts used to be common, but concerns over the turf have made them rarer.
If you're a fan of football, you'll definitely want to check out the Ben Hill Griffin Stadium.
Even during the off-season, there's probably something worth seeing in one of Florida's biggest and most popular stadiums.
Address: 157 Gale Lemerand Dr, Gainesville, FL 32611, USA
12. Sweetwater Wetlands Park
There are a lot of parks and reserves in Florida, but Sweetwater Wetlands Park sets itself apart from the rest by being a wetland area filled with plants and animals that you can't find anywhere else in Gainesville.
For example, have you ever wanted to see an alligator snapping at a wood stork? Would you love to fill your scrapbook with pictures of rare marsh flowers and seeds?
Sweetwater Wetlands Park is so untouched that visitors have to follow strict rules to get through the gates.
There are no cars allowed on the trails, and pets are discouraged because of the wildness of the local birds, snakes and gators.
In other words, don't bring Fido. Be content with your camera.
Address: 325 SW Williston Rd, Gainesville, FL 32601, USA
13. West University Ave
While not really a vacation destination, West University Avenue is one of those places where you can always find things to do in Gainesville.
It's packed with bars, clubs, restaurants, shops, gyms and movie theaters, so it's a very energetic part of the city.
It's also one of the best areas in Gainesville for nightlife. If you're a fan of drinking and dancing, West University Ave is the place to be!
Another nice thing about this street is that it can be used as a jumping-off point for many other Florida attractions in the region.
Whether you're headed to the nature reserves up north or the museums and art galleries down south, you can find a turn-off on West University Ave.
Put on your salsa dress. Slick back your hair for date night. It's time to make some magic happen during your trip to Gainesville, and West University Ave will be your Hogwarts.
14. Lubee Bat Conservancy
Bats are some of the most misunderstood creatures in the world, but the Lubee Bat Conservancy is trying to change that.
Located in the heart of Gainesville, the Lubee Bat Conservancy is home to dozens of species of bats, including several exotic and endangered breeds.
The goal of the establishment is to educate the public on these surprisingly sensitive creatures while also taking care of individual animals that require rehabilitation.
You'll need to schedule an appointment for your trip to the Lubee Bat Conservancy, so don't hop on a plane to Florida without calling first.
However, it'll be worth the trouble when you're actually there. You'll get a private tour, and you'll be able to observe, feed and symbolically adopt a bat.
Some of the bats have even been trained to paint, so if you're lucky, you'll get to watch them prepare some artwork for you.
How many places in Gainesville can offer that experience?
Address: 1309 NW 192nd Ave, Gainesville, FL 32609, USA
15. Cade Museum For Creativity And Invention
Founded by a real-life inventor, the Cade Museum for Creativity and Invention is one of the best places in Florida for young people who are interested in science and technology.
For starters, it's filled with exhibits, displays and interactive stations where visitors can get hands-on with everything from machine parts to snakes preserved in fluid jars.
You and your little ones could lose hours as you wander through the halls, but don't worry, there are volunteers waiting around every corner to help you find the next cool thing.
If your family plans on staying in Gainesville for awhile, you might also be interested in the museum's weekend workshops.
They host classes where kids can learn how to do things like making slime, decorating skeletons and identifying the different parts of the brain.
All things considered, the Cade Museum for Creativity and Invention is both a fun and educational stop in Gainesville, and it might just inspire a future Einstein in your household.
It's worth the price of admission.
Address: 811 S Main St, Gainesville, FL 32601, USA
16. Gainesville Raceway
Do you smell the gasoline? Do you hear the squeal of brakes and the roar of an excited crowd?
It's coming from the Gainesville Raceway, a dragstrip where both amateurs and professionals can live out their dreams of high-octane competition.
The Gainesville Raceway is most famous as the location of the NHRA GatorNationals, an annual drag racing event where more than 135,000 people gather to watch their favorite drivers in head-to-head battles.
However, it also hosts weekly and monthly races for people who don't have big sponsorships and devoted fans.
The cool thing about the Gainesville Raceway is that anyone can make a name for themselves if they have a fast car and enough nerve.
It isn't for the faint of heart. You might not want to visit if you're traveling with small children or anyone spooked by loud noises.
For thrill seekers, however, it doesn't get much better than the Gainesville Raceway. It's life or death on that Florida strip!
Address: 11211 N, N County Road 225, Gainesville, FL 32609, United States
17. 34th Street Wall
The 34th Street Wall is something that you can only see in Gainesville. It stretches a whopping 1,120 feet long, and every inch is covered in graffiti.
Built several decades ago, the original purpose of the 34th Street Wall was to prevent erosion on a nearby golf course.
It was the pride of the neighborhood, and any "tagging" was quickly covered with a fresh coat of paint.
But the artists persisted.
They added words, drawings, messages, prayers and announcements. They painted tributes to local murder victims. They got celebrities to pose with the wall for awareness campaigns.
Today, while it's still illegal to graffiti the 34th Street Wall, no one actually enforces the rule. It's considered a unique and vibrant feature of Gainesville.
Some of the paint is more than 250 layers thick, and people are still adding to it!
Florida is known for being a place filled with quirks and wonders, and the 34th Street Wall definitely qualifies.
18. Samuel P. Harn Museum Of Art
Also known as "the Harn," the Samuel P. Harn Museum of Art is an amazing museum in Gainesville.
Not only does it offer more than 10,000 works to admire, but it's completely and totally free.
You can start your visit with a tour through the many galleries of traditional and contemporary art.
Some of the pieces belong to the Harn; others are secured through loans or displayed in special exhibits that move around Florida.
When you're done with the interior art, stroll through the grounds and gardens to appreciate a more rugged kind of beauty.
Finish your visit with a trip to the on-site cafe or gift shop.
There's a reason why the Harn always tops the list of free things to do in the city of Gainesville.
It isn't often that you can experience such history and culture gathered in a single location, especially when you don't have to pay for it.
Address: 3259 Hull Rd, Gainesville, FL 32611, USA
19. Kanapaha Botanical Gardens
Escape the city limits with a trip to the Kanapaha Botanical Gardens.
They're a safe haven from all of the loud, busy crowds of Gainesville, and they can be especially soothing if you need a moment to decompress during an action-packed vacation.
What can you do when you arrive?
Well, the first thing to know about the Kanapaha Botanical Gardens is that they're actually a collection of gardens.
They have rock gardens, rose gardens, butterfly gardens and bamboo gardens. They have a gorgeous arboretum and fields of flowers as far as the eye can see.
They even have gigantic lily pads floating down their brooks that a full-size toddler can ride.
The nicest thing about the Kanapaha Botanical Gardens, however, is their annual calendar of special events.
In March, there's a Spring Garden Festival with food and music; in May, there's a Moonlight Walk where you can wander the grounds at night with lights and lanterns.
You won't want to miss the one-of-a-kind stuff that only takes place at certain times of the year.
Address: 4700 SW 58th Dr, Gainesville, FL 32608, USA
20. Morningside Nature Center Of Florida
Step back in time with the Morningside Nature Center of Florida.
Though it offers more than 400 acres of hiking trails and picnic areas, its centerpiece is a 19th century "living history" farm.
The farm is comprised of a cabin, barn and one-room schoolhouse surrounded by fields of corn, cotton and sugarcane.
All chores are done by hand, and everything has been preserved or recreated to function just like it did when its original owners lived in Florida.
Visitors can take a tour, feed the livestock and try on period-appropriate clothing.
Everything is free, but donations of fruits and vegetables are gladly accepted for the animals.
If you have the spirit of a pioneer within you, consider a visit to the Morningside Nature Center of Florida.
Address: 3540 E University Ave, Gainesville, FL 32641, USA
21. The Oaks Mall
It offers a nice mix of high-end retailers and dirt-cheap vendor stalls, so you shouldn't have any trouble finding something to suit your budget.
There are fashion boutiques and jewelry outlets; there are fun little bookstores and candy shops.
Everything is laid out on a single floor with maps printed everywhere to help weekend tourists.
The mall also boasts a food court and a small play area for kids. If you wander down the right corridor, you might even pass the life-sized alligator statute that watches passing shoppers with a vigilant eye.
The Oaks Mall might not be one of those towering, state-of-the-art malls, but it's a nice way to wrap up your trip to Gainesville.
When you realize at the last minute that you forgot to grab your sister a commemorative "I heart Florida" hoodie, the Oaks Mall will be there for you.
Address: 6419 W Newberry Rd, Gainesville, FL 32605, USA
Start Planning Your Trip To Gainesville
If you're wondering what to do in Gainesville, Florida, these are just a few ideas for a fun and exciting vacation.
Some of them are spontaneous free things to do on a boring afternoon; others will require careful planning and scheduling before you even leave home.
At the end of the day, however, if you're looking for a weekend that you'll never forget, Gainesville is one of the best destinations in Florida.